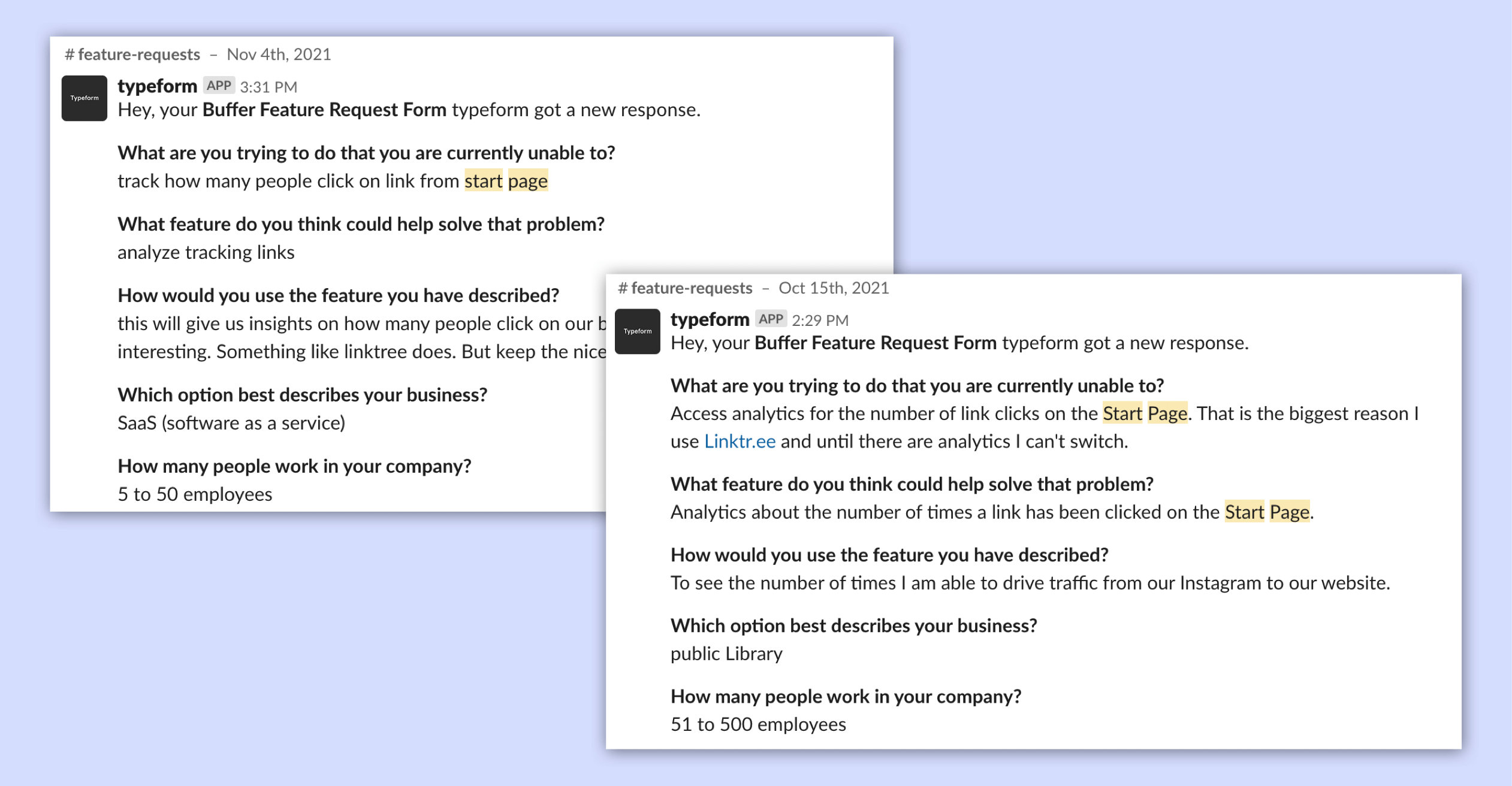 What We've Learned Launching a New Product as an 11-Year-Old Company
[ad_1]

At Buffer, we spend a lot of time thinking about growth. Small business growth to be precise. We love reading stories about a start-up candle company growing revenue by 5x on social, and a brand that gained 400,000 followers in its first four years.
Amongst many of these stories, we've seen one consistent theme.
To grow, focus on doing less.
In our experience, when growing a business/brand/product, deciding what to do is probably less important than deciding what not to do.
We've experienced this ourselves at Buffer
Six months ago we launched Start Page, a free landing page builder that brings together all of your best content in one place.
Since launching, 12,724 pages have been built. In the last week, there were 865 Start Pages created and 6,096 people loaded a Start Page. We're so happy with these metrics and love seeing so many new Start Pages shared on Twitter every day.
But, we're aware there's more to be done.
Just like the 1,000s of other small businesses out there, we focused on doing less by building the essentials with Start Page. But, we're aware there's more to be done. We decided to opt for an MVP (minimum viable product) first and asked our customers what to build after.
Read on and we'll share how this approach worked for us.
Let customers craft the roadmap
At Buffer, we know that no matter how much insight and expertise you have, predicting the future is pretty much impossible. That's why, when launching Start Page, we didn't aim to offer everything customers could possibly need. Instead we focused on the fundamentals and encouraged customers to let us know what to build next.
Everyone who uses Buffer is asked to request new features via our Typeform survey.
This survey links to an internal Slack channel called #feature-requests. Most days around 10 new requests come through. Each and every request is read by our product team and all are grouped into categories so we can look for trends.
Following the Start Page launch, we noticed a number of customers asking Start Page statistics. Things like page views and link clicks.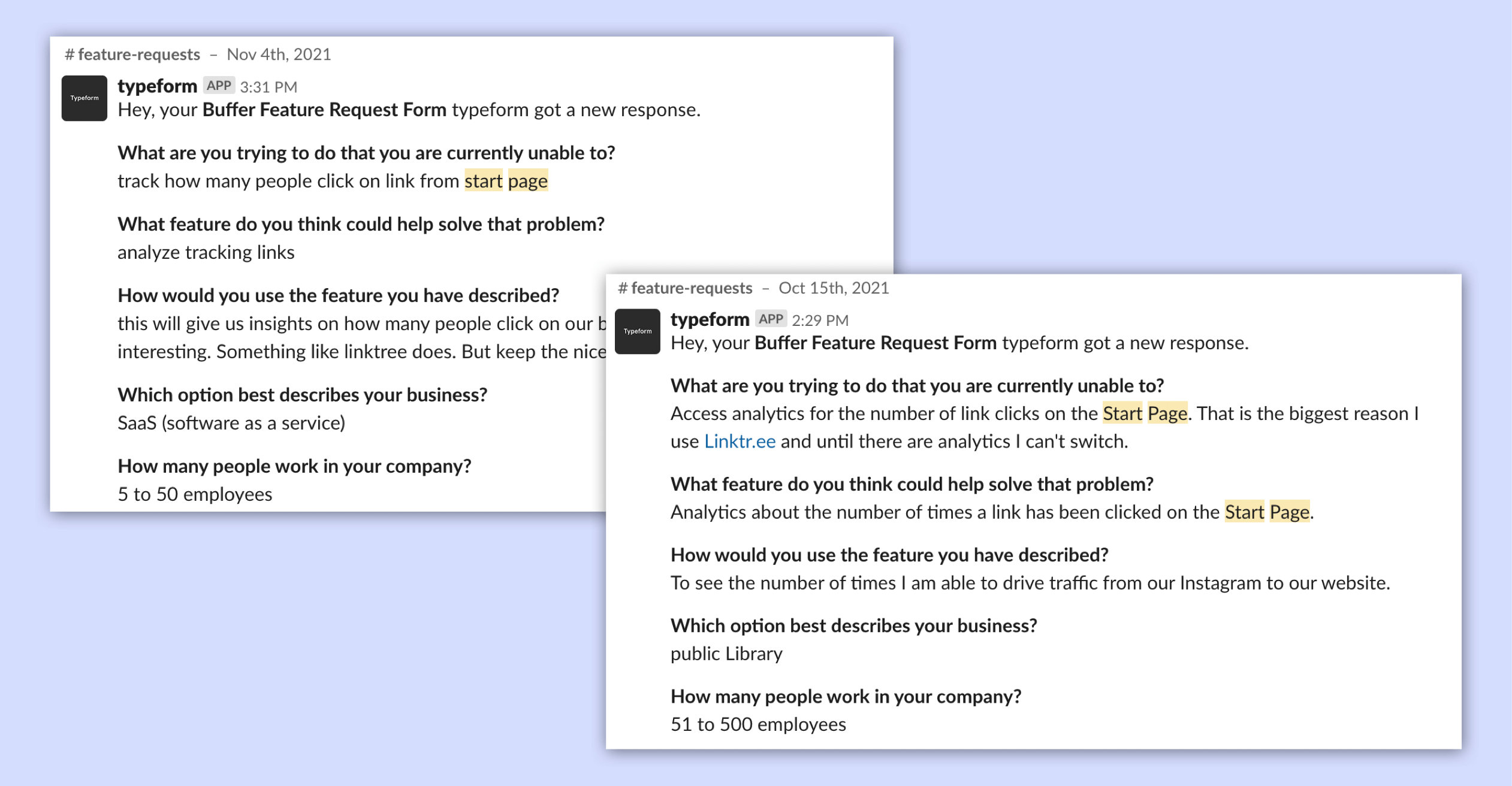 It would have been hard for us to prioritize this feature pre-launch. After all, there were dozens of features we knew users would want.
But seeing customers reach out and ask for it confirmed it was a key priority. We started building a statistics feature and launched just a couple of months later in December.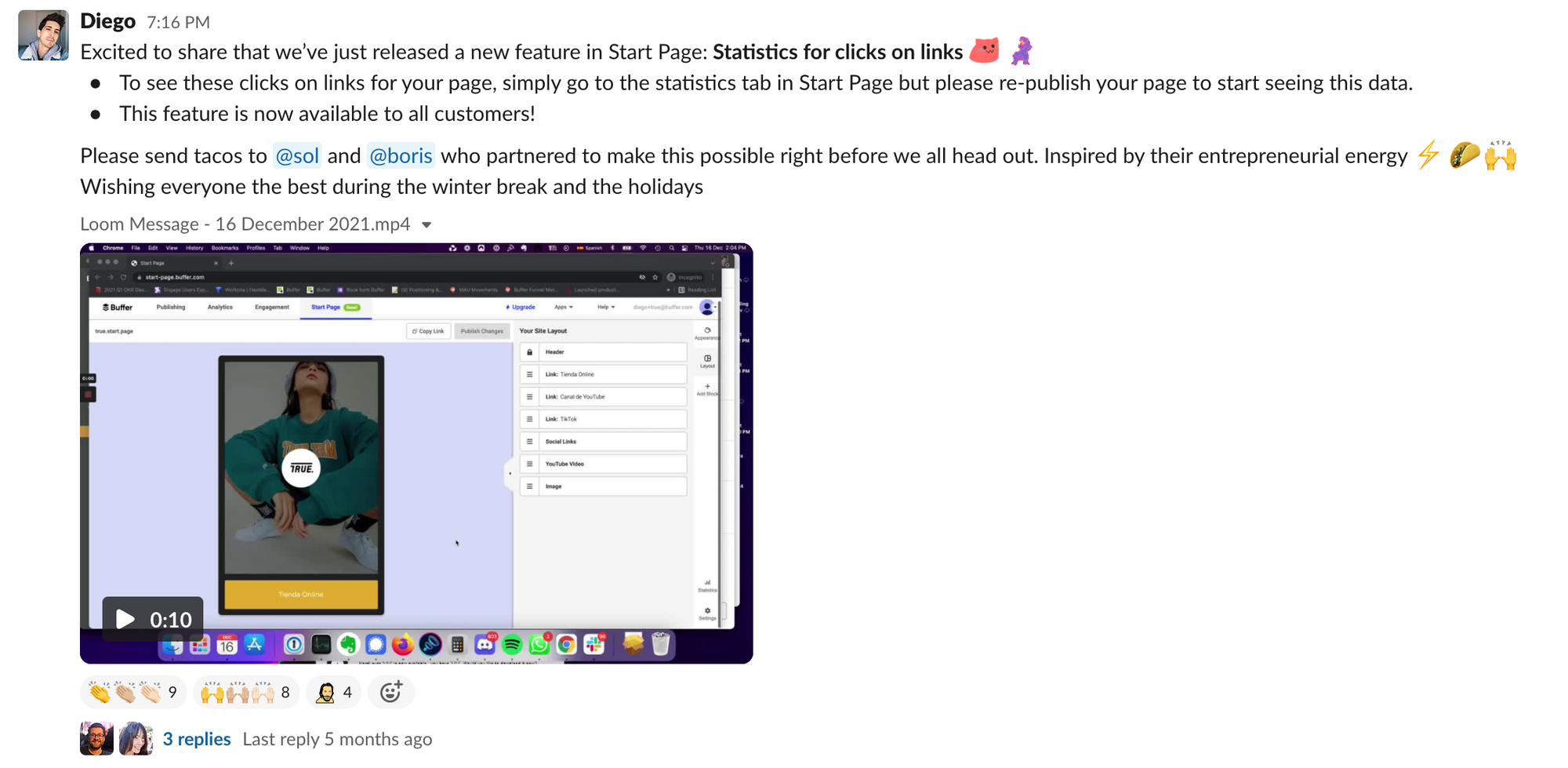 Ultimately, product releases are a lesson in sacrifice. You have to learn to sacrifice features you might not need. Blogs you shouldn't write. Messaging that won't resonate. Focus is vital when bringing a product to market.
By releasing early and letting customers craft our roadmap, we've managed to build a healthy user-base without months (or years) of development in the shadows.
But, gaining users isn't a given. If you build it, they won't always come. So here are a few lessons we learned from building a new user-base.
Double-down on growth loops
When I first started as a product marketer, I assumed that launches were your one and only chance of gaining new users.
Get it right and you're propelled to success. Get it wrong and there's no second chance.
But, as most experienced marketers will tell you, that's not the only option.
Sure, launches can build awareness, interest, and engagement with a new product. But typically that hype is short-lived.
After a day, or perhaps a few hours, the launch will fade from customers' minds. The email is archived, the post is read, and the Twitter feed refreshes.
To continuously grow usage for a new product in a sustainable way, you'll need to build growth loops into your marketing efforts and product design that consistently attract new users without active marketing effort.
What's a growth loop?
"Loops are closed systems where the inputs through some process generates more of an output that can be reinvested in the input. There are growth loops that serve different value creation including new users, returning users, defensibility, or efficiency." (Reforge 2020)
With Start Page, we purposefully built a growth loop into the product's user interface. Here's how it works:
The customer creates a Start Page
The customer shares the Start Page as a link in bio
A follower views the Start Page
The follower scrolls to the bottom and clicks "Powered By Buffer"
The follower creates their own Start Page
♻️ and the loop continues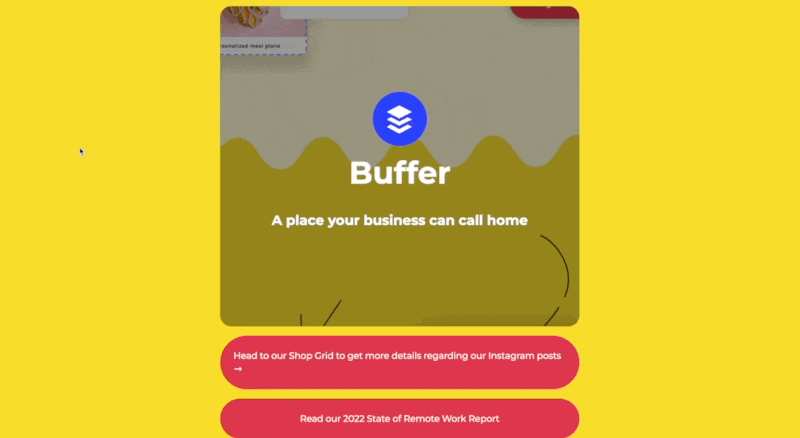 So far, 3,362 people have clicked this "Powered By Buffer" link, and 91 (2.71 percent) have gone on to create their own Start Page.
These aren't astronomical numbers, but it's a cycle that will continue to deliver as usage grows.
What's unique about these loops is that they don't require active marketing effort. Get it right, and the growth will propel itself, especially if a few Start Pages go viral. A day after launching, we noticed NATO had created a Start Page, that was a pretty cool endorsement.
Earlier this year, we also noticed an extremely popular BTS fan account sharing a Start Page which generated 5,957 retweets.
The BTS Start Page is no longer active, but the results were tremendous. On one Start Page for BTS's PTD gigs, 2,337 people clicked the "Powered by Buffer" link. Not bad, for a small link right at the bottom of the page.
Not all growth loops need to go viral though. There are simple growth loops that all of us can build.
Mike Eckstein, a Senior Product Marketer here at Buffer, realized that we were sending thousands of onboarding emails to new customers every month. Yet, only ~10 percent of them were creating a Start Page.
So, why not tweak those onboarding emails to promote Start Page.

This small loop had a major impact.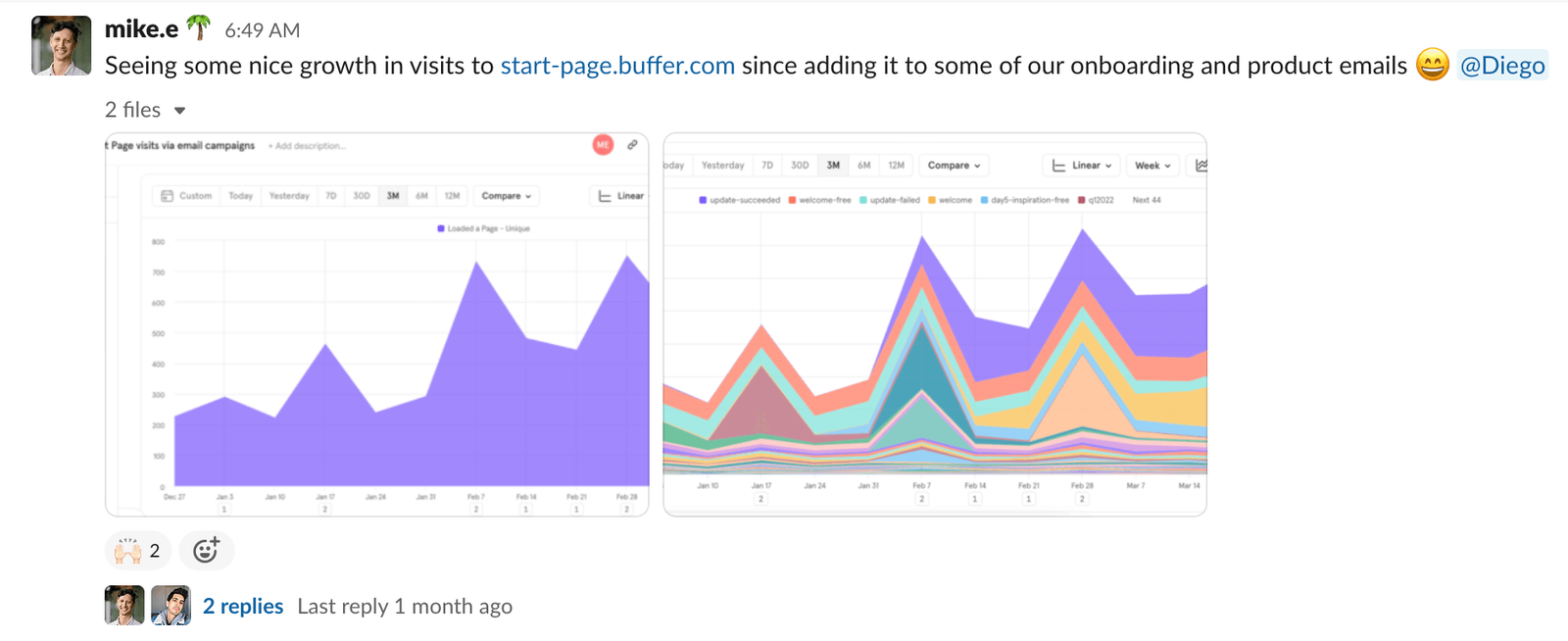 The onboarding emails alone doubled traffic to the Start Page landing page from January to March. Just like other growth loops, this model for gaining users is sustainable:
Users sign up to Buffer and receive the onboarding email sequence
Some click the link to create a Start Page
These users share that Start Page publicly with their audience
Members of that audience find out about Buffer and create a Buffer account
♻️ and the loop continues.
Today, 73 percent of new Start Pages are created by new Buffer users, showcasing the big impact small tweaks can make.
But that's not all! We now promote Start Page on our login page, which is visited around 400,000 times a month, massively increasing the awareness. And we shipped a new landing page, which improved conversions from 0.8 percent to 3.5 percent.  
What's next?
For Start Page, our approach to both product marketing and development has been to focus. To hone in on the features and marketing campaigns that will deliver results and double down on them.
On the product side, we've launched five new features based on feedback. While on the marketing side, we've relaunched our landing page to try and rank on Google for popular terms like "link in bio". We'll share an update on that work on the blog soon.
In the meantime, why not create your own Start Page for free.


[ad_2]

Source link